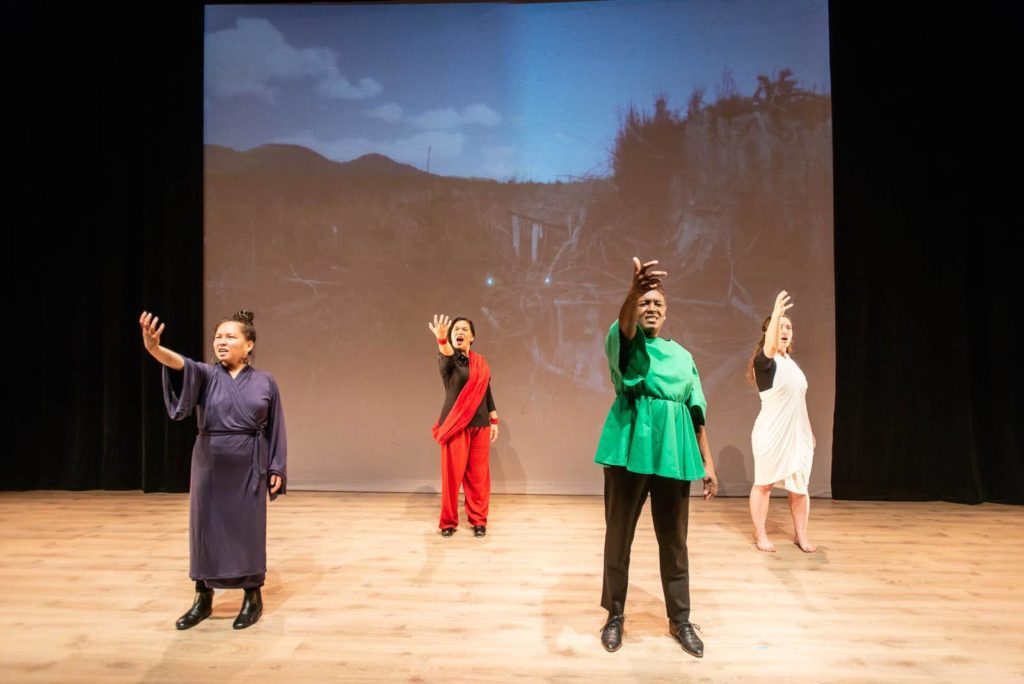 Speaking Vibrations is created and performed by four artists: ASL poet and storyteller Jo-Anne Bryan, percussive dance artist Carmelle Cachero, literary Hip Hop artist King Kimbit, and contemporary dance artist Jordan Samonas; produced and project managed by Carmelle Cachero and Jordan Samonas.
We are four women from different walks of life, of diverse identities and practices, intersecting through art and beyond. The tensions between where we are from, where we live, and the languages we speak, sign, or have lost, are the stories and songs our work is grounded in.

Accessibility is built into our aesthetic and design. We:
create inclusive, accessible and interdisciplinary performance works
highlight and uplift Deaf storytelling, performance, and creation methods
combine & blend genres of performance and storytelling (e.g. movement, percussive music,
rap, spoken word, ASL song/poetry)
use innovative and accessible technologies, production methods, stage & sound design (e.g.
vibrotactile devices, vibrotactile metronome watches, visualization and tactilization of
sound/music)
embody an accessible inclusive, and integrative audience/performance philosophy and
aesthetic; collaborate with like minded artists, producers, and creators
connect with d/Deaf and hard of hearing audiences, non-Deaf audience, ASL and LSQ-using audiences
Our creative interests include the blending of artforms (rhythm tap dance, percussive dance, spoken word, song, rap, ASL song/poetry, visual vernacular, contemporary dance), the visualization and tactilization of sound and music, and using creative technology and design to enhance live art performance experiences for diverse audiences.
Speaking Vibrations was recently chosen for the 2023 Corel Endowment Fund for the Arts Award from the Ottawa Arts Council. We were selected for Great Canadian Theatre Company's Mainstage 2021/2022 season and nominated in two categories for this performance, in Best Direction (Jacqui du Toit and Pamela Witcher and Best Design (David Bobier, Jim Ruxton & Jesse Stewart) in the 2022 Prix Rideau Awards. At the Ottawa Fringe Festival in 2021, Speaking Vibrations was awarded "Outstanding Ensemble Performance." Our work has been funded and supported by the City of Ottawa, Ontario Arts Council and Canada Council for the Arts, and has attracted attention from interviews and reviews with newspaper, radio, magazine and online publications.
Our Team:
creation/performance | Jo-Anne Bryan, Carmelle Cachero, King Kimbit, & Jordan Samonas
producers | Carmelle Cachero & Jordan Samonas
stage & production manager | Kat Wong
director/dramaturg | Jacqui du Toit
Deaf culture director | Pamela Witcher
lighting design | Emilio Sebastiao
projection & video designer | Lesley Marshall
vibrotactile specialists | David Bobier & Jim Ruxton (VibrafusionLab)
lead interpreter | Marianne Kelly
The Artists